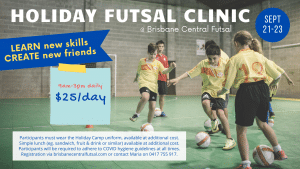 Keep the kids active during the school holidays with our Euro Academy Holiday Camps, where they'll have fun improving their skills and make new friends with our specially-designed program of soccer games and exercises.
Our next Holiday Camp will take place from 21-23 September 2020, at the following location:
Brisbane Central Futsal (208 Montague Road, West End)
Please see below to register or for more information regarding our upcoming Holiday Camp.
"Hey Maria, Oscar is having a ball. He's gone from completely unable to kick a ball to running at the ball at an angle. Super impressed. Thanks again."
Margaret T. – Holiday Clinic Parent
Program Details
Come along to learn, live and breathe the Beautiful Game for three full days at Brisbane Central Futsal, West End.
Camp Dates: 21-23 September, 2020
Camp Venues: WEST END – Montague Road (Indoor Futsal)
Ages: Registration open for players aged 6-15
Time: 9:00am-3:00pm daily
Cost: $25/day ($35/day with catering)
Example Activities: Skills Training, Mini-Games, Dodgeball, Soccer Tennis, Football Videos and much more. All activities will be designed to adhere to current COVID-19 social-distancing regulations.
Registration
Click the button below to register your child/children for the camp.
Please notify us if your child has any food allergies.
All players must wear the Holiday Camp jersey (+ optional heat-pressed name & number)
When nominating please confirm which days your child will be attending.