Note: This page has separate stylings for desktop and mobile.
Check Advanced Tab >  Responsive Settings
EURO FUTSAL SCHOOL AND ACADEMY
OUR FUTSAL ACADEMY
Euro Futsal School and Academy is a dedicated Futsal Academy in central Brisbane designed to give young players the opportunity to acquire Futsal skills and knowledge to a higher level and give them the extra edge in football.
Operated by fully accredited and experienced Futsal coaches, various age-specific programmes have been designed to teach players the proper techniques of ball control, footwork and gameplay.
Individual progress is closely monitored so that players can track their progress throughout each term. We also offer trial taster sessions to allow players to see how they get on before committing to a full term.
Euro Futsal Academy offers a complete pathway to high-level Futsal for all young players in Brisbane. Junior teams will be given the opportunities to compete in tournaments and leagues throughout the year when feasible. Friendlies are organised regularly to ensure that our players' match fitness is maintained.
I have had my son play and train at the venue and found the staff friendly and professional. The coach was great with the kids and they enjoy each session. Highly recommend Brisbane Central Futsal.

Frank F. – EURO FUTSAL Parent
1-ON-1 COACHING
Personal coaching is available and provides an opportunity for individual players to improve specific skills and fitness goals.
From specific in-game drills to nutrition advice, working 1-on-1 with a personal coach allows for the most tailored advice and guidance.
We offer personal training for areas that players might be looking to improve on – for example their first touch, shooting, positioning, defending and game management.
So get better prepared for that dream club trial and progress to the next level with our highly experienced Futsal educators!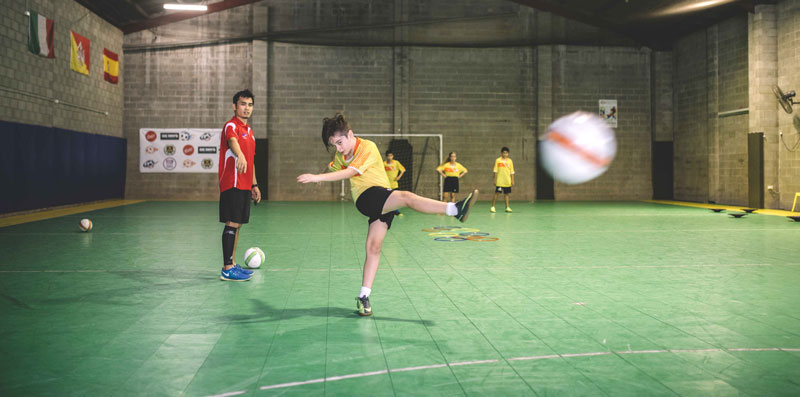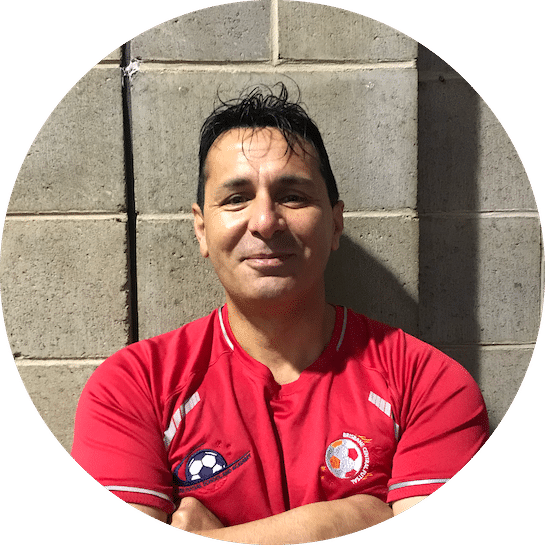 Our new head coach for Term 3, 2020, Carlos Alberto, combines his extensive experience in Futsal and Football education with a passion for nurturing and developing young players.
Carlos has worked with top NPL clubs in Australia (St. Albans Saints) and professional clubs abroad (Santos FC, Brazil). He has most recently honed his skills in Futsal education and coaching methods at various schools and academies in Victoria (Keilor Downs College, Nike Chance Academy).
Carlos has considerable experience in developing the skills of both young and old players. His coaching philosophy espouses the importance of understanding all elements of Futsal; offensive and defensive strategy, dribbling, passing and shooting techniques, goalkeeper training and more.
His mild and reassuring manner has a positive effect on both young and senior players. Carlos ensures he always provides personalised advice to each individual, ensuring that all players in a group environment feel seen, included and part of a team.
"Just wanted to say how impressed we are with head coach Alex.. Very thorough with explaining to the kids and getting them to think about all facets of the game. Very hard to find a coach who teaches the whole game and not just one aspect. He's awesome!"
Michael G. – EURO FUTSAL Parent
Rather than simply coach "indoor football", we teach Futsal-specific skills and techniques. Our players develop the unique skills required on the Futsal court, while simultaneously developing knowledge that translates to the full-sized game.
PROGRAM & PRICING DETAILS
Euro Futsal Academy operates on a term-by-term basis, concurrent to the Queensland schools calendar.
Kindy Program (ages 3-6)
Take part in play-based learning:
Get excited about Futsal and playing with the ball
Be engaged in physical activity with friends
Character building through sports
Expand their physical abilities:
Improve their cognitive skills
Be active and take a break from technology
Build their confidence:
Coaches never discourage and are always on hand to support and offer positive reinforcement
Enhance their social skills:
Encourage our participants to be inclusive
Promotes friendship and teamwork
Develop communication and respect towards one another
Skills Program (ages 7-9)
An emphasis on natural skills development (i.e. learning by playing the game). Reduced emphasis on in-depth coaching, but organised fun Futsal exercises – the key to helping players build a love for the game at this age.
Participants are introduced to the basic rules of the game as well as tips and hints on building a real Futsal/Football culture within a team.
The Skills Program's focus is on building a solid foundation of technical skills and the development of the following four main functional elements;
First touch (control)
Striking the ball (passing/shooting)
Running with the ball (dribbling/attacking space)
1-v-1 (creativity/problem-solving)
These four core skills make up 95% of the actions of any court/field player during a game of Futsal/Football, which is why it is critical to train these actions repeatedly so that players will develop their ability to perform them more effectively during a game.
Intermediate Program (ages 10-14)
The Intermediate Program focuses on developing the more advanced concepts of tactical awareness, spatial perception and decision-making. Sessions are designed using a game-related approach to help the players apply functional game skills in a team setting.
Academy Program (ages 15 & up)
In our Elite Program, players are trained to be better prepared for a more competitive environment. Training focuses on analytical thinking based on gameplay and match analysis. Physical conditioning is also another key focus of the program.
Includes Registration & Insurance
Includes Registration & Insurance
Includes Registration & Insurance

Intermediate Skills Training
Includes Registration & Insurance
Full term – $95 (excludes training kit)
5% discount when paying for 2 terms, or 10% discount for full year
Choose from Wednesday or Sunday sessions
Contact Maria (0417 755 917) for more information
SCHOOL PROGRAM INFORMATION