Note: This page has separate stylings for desktop and mobile.
Check Advanced Tab >  Responsive Settings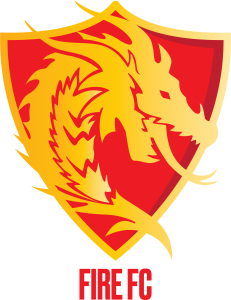 FIRE FUTSAL ACADEMY
Fire Futsal Academy is a professionally run Futsal Academy in Brisbane designed to give young talented individuals the opportunity to acquire skills and futsal knowledge to a higher level and give them the extra edge in football.
Coached by qualified and experienced Futsal / soccer coaches, there are various age-specific programmes that has been designed so players will be able to learn the proper techniques on ball control, foot work and game play.
Individual progress is closely monitored so that players can track their progress in the program. We also offer a trial taster session to allow players to see how they get on before committing to a full term.
Fire Futsal Academy offers a complete pathway to Futsal / soccer all players in Brisbane. Junior teams will be given the opportunities to compete in tournaments and leagues throughout the year. Friendlies are organised to ensure that players' match fitness is always at their peak.
Inspire Health Services have put together some nutritional tips specifically for the game of futsal. Check it out via this link:
SCHOLARSHIP OPPORTUNITIES
Fire Futsal Academy is giving players in the U12-14 age brackets the opportunity to earn a full scholarship at our academy for the 2023 calendar year. The scholarship includes weekly academy training sessions for all four terms, with full uniform provided. The scholarship also offers players a pathway to representing Brisbane Central Futsal in state and national competitions. Players interested in trialing for a scholarship are encouraged to email or call us (0417 755 917) for more details, including upcoming trial dates.
1-ON-1 COACHING
Personal coaching is available and provides an opportunity for individual players to improve specific skills and fitness goals.
From specific in-game drills to nutrition advice, working 1-on-1 with a personal coach allows for the most tailored advice and guidance.
We offer personal training for areas that players might be looking to improve on – for example their first touch, shooting, positioning, defending and game management.
So get better prepared for that dream club trial and progress to the next level with our highly experienced Futsal educators!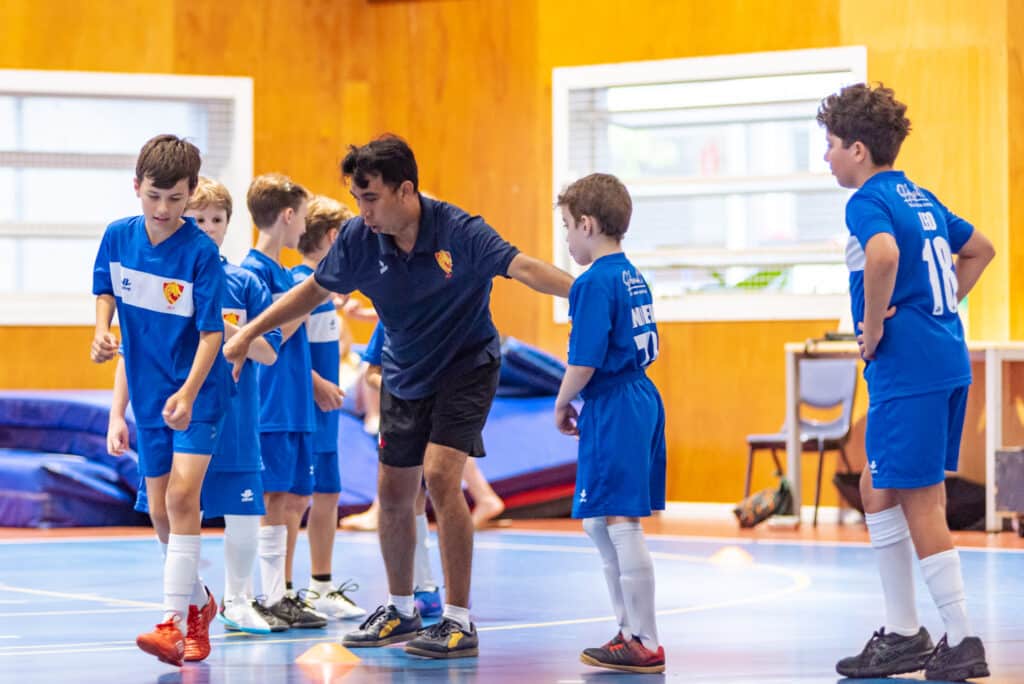 I have had my son play and train at the venue and found the staff friendly and professional. The coach was great with the kids and they enjoy each session. Highly recommend Brisbane Central Futsal.

Frank Firinu, Parent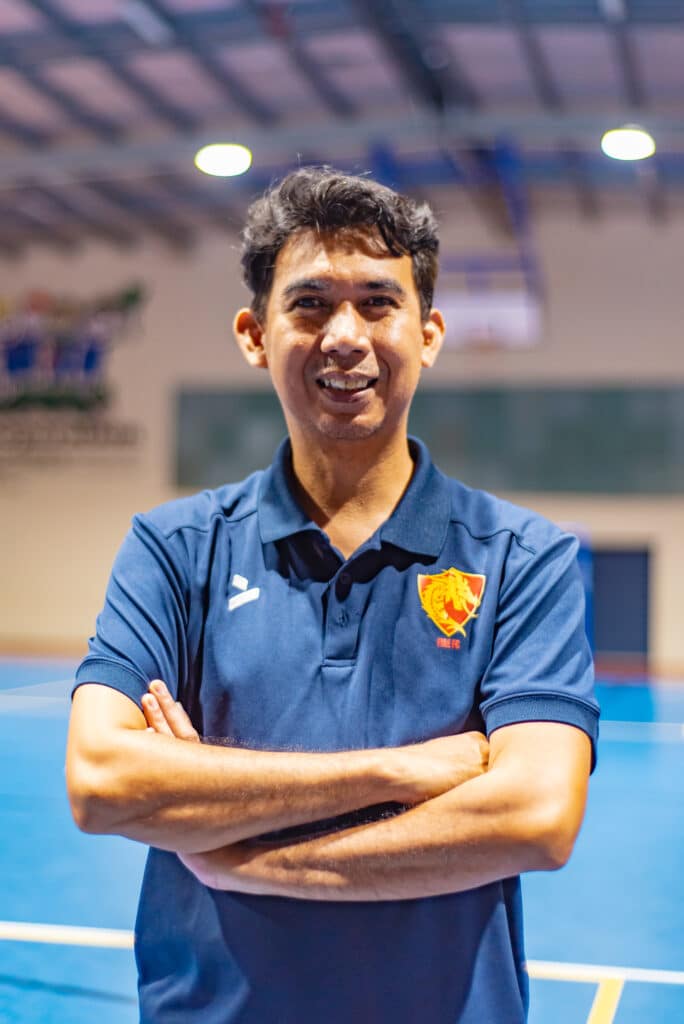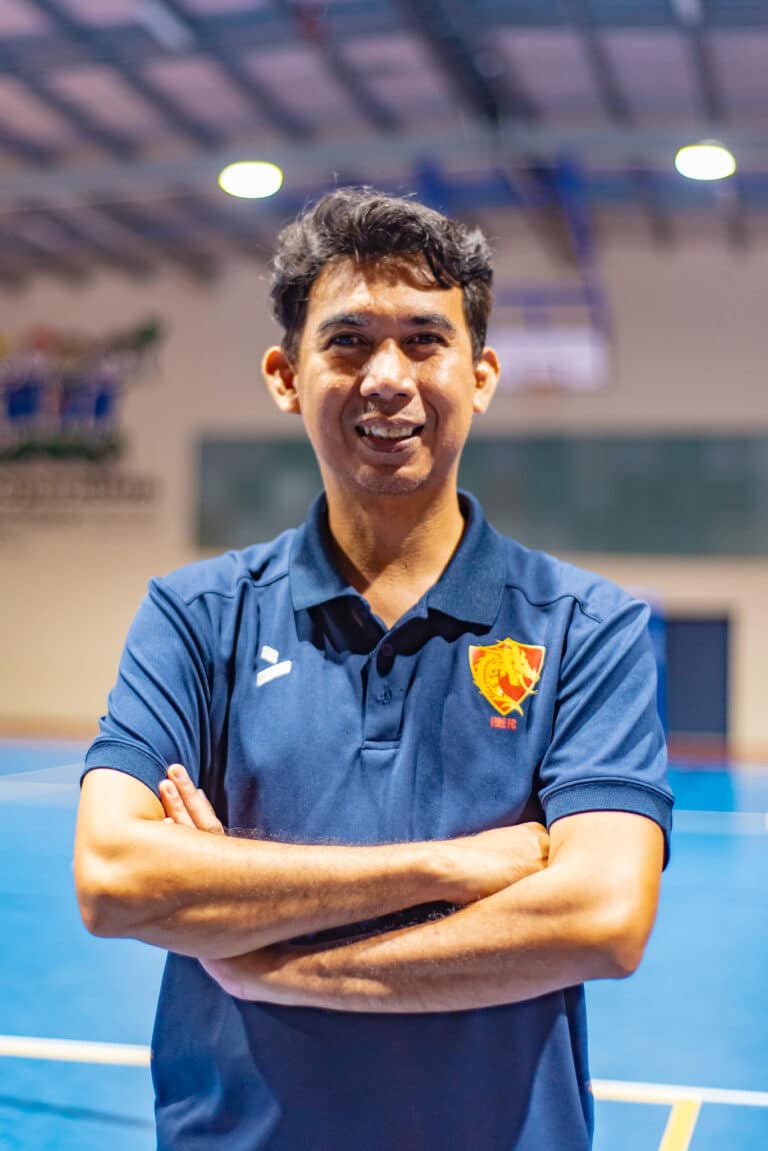 FIRE FUTSAL ACADEMY HEAD COACH
Coach Efraim, is a professional consultant, with more than 10 years experience in sports management, football technical research and development, technical background in football coaching as well as futsal coaching at high level in Asia.
The current Futsal Coaching Instructor at the Asian Football Confederation (AFC), is not afraid to step away from his comfort zone, leaving all this behind for a new challenge, in a different country to share his knowledge and expertise with the ever growing futsal community here in Queensland. He will lead the coaching & development sector here at BCF including Fire FC Juniors, Mens and Womens.
Accolades:
Asian Football Confederation, Elite Futsal Coachingg Instructor
Indonesia Futsal National Team, Technical Director
Football Association of Indonesia, Coaching Manager
JEONJU MAG Futsal Club (South Korea), Technical Manager – AFC Futsal Club Championship 2018
Can't heap enough praise upon him. An exceptional rapport with the kids. His character and approach to coaching make the kids want to go along to training. He's patient, considerate and great communicator. My youngest doesn't want to yet play futsal but he loves going to training because of coach. That alone is great feedback.
Coach's training is well structured, disciplined, has a set plan for each week and builds upon skills introduced in week prior. All while making it fun for the kids. They truly love him.  Importantly, he has also introduced a moral and ethical code kids should follow while playing futsal ie; Teaching respect, firstly for your teammate, your opposition, and the ref., thanking and shaking their hands at the end of a match and teaching them why you should respect them.
I've worked with and trained under a plethora of coaches in various sports at local and representative level and the coach is truly on par with the best of them. And because he is, coach's name comes up in parents and kids conversations away from futsal and thus promotes the game and will surely build membership.Make sure he's paid enough to ensure he sticks around. A great person to build a club around. Should market him to the schools.
Robert Palm (CPA), Parent
Rather than simply coach "indoor football", we teach Futsal-specific skills and techniques. Our players develop the unique skills required on the Futsal court, while simultaneously developing knowledge that translates to the full-sized game.
PROGRAM & PRICING DETAILS
Fire Futsal Academy operates on a term-by-term basis, concurrent to the Queensland schools calendar. 
Fire Kindy Program (Ages 3-6)
Take part in play-based learning:
Get the kids excited about futsal & sports.
Be more engaged in physical activities.
Learn character building through sports.
Expand their physical abilities:
Improve on their cognitive skills.
Be more active and less connected to digital technology.
Build their confidence:
Coaches NEVER discourages but always on hand to support & acknowledge good efforts.
Positive reinforcement.
Enhance their social skills:
Encourage to be more inclusive.
Promotes friendship and teamwork.
Better communication and respect towards one another.
Fire Mini Program (Ages 7-9)
The emphasis is on natural development (i.e. learning by PLAYING game). No coaching but organised FUN futsal exercises is the key to helping players build a love for the game.
Another highlight participants are exposed to basic rules of the game as well as tips and hints on building a Futsal/Football culture in a team.
The Skills Program's focus is on building a solid foundation of Technical Skill and the development of the 4 Functional Game Skills:
First touch (control)
Striking the ball (passing/shooting)
Running with the ball (dribbling/attacking space)
1-v-1 (creativity/problem-solving)
These four Core Skills make up 95% of the actions of any court/field player during a game of Futsal/Football, which is why it is critical to train these actions repeatedly so that the players will develop their ability to perform them more effectively during a game.
Fire Junior Program (Ages 10-14)
The Intermediate Program focuses on developing the more advanced concepts of tactical awareness, spatial perception and decision-making. Sessions are designed using a game-related approach to help the players apply functional game skills in a team setting.
Fire Youth Program (Ages 15 & up)
In our Elite Program, players are trained to be better prepared for a more competitive environment. Training focuses on analytical thinking based on game play and match analysis. Match Conditioning is also another key focus of the program.
Includes Registration & Insurance

Free BCF Stress Ball (for new players who register and pay upfront for a full term)
Includes Registration & Insurance

Free BCF Stress Ball (for new players who register and pay upfront for a full term)
Includes Registration & Insurance

Intermediate Skills Training

Free BCF Stress Ball (for new players who register and pay upfront for a full term)
Includes Registration & Insurance

Free BCF Stress Ball (for new players who register and pay upfront for a full term)
One-off class: $20 per player
Full term (9 Weeks): Wednesdays & Sundays
$135 per player (1Day/Wk) or $270 per player (2Days/Wk)
5% discount when paying for 2 terms, or 10% discount for full year
Training kit ($75 for customised shirt, shorts and socks) is compulsory for all players
Contact Maria (0417 755 917) for more information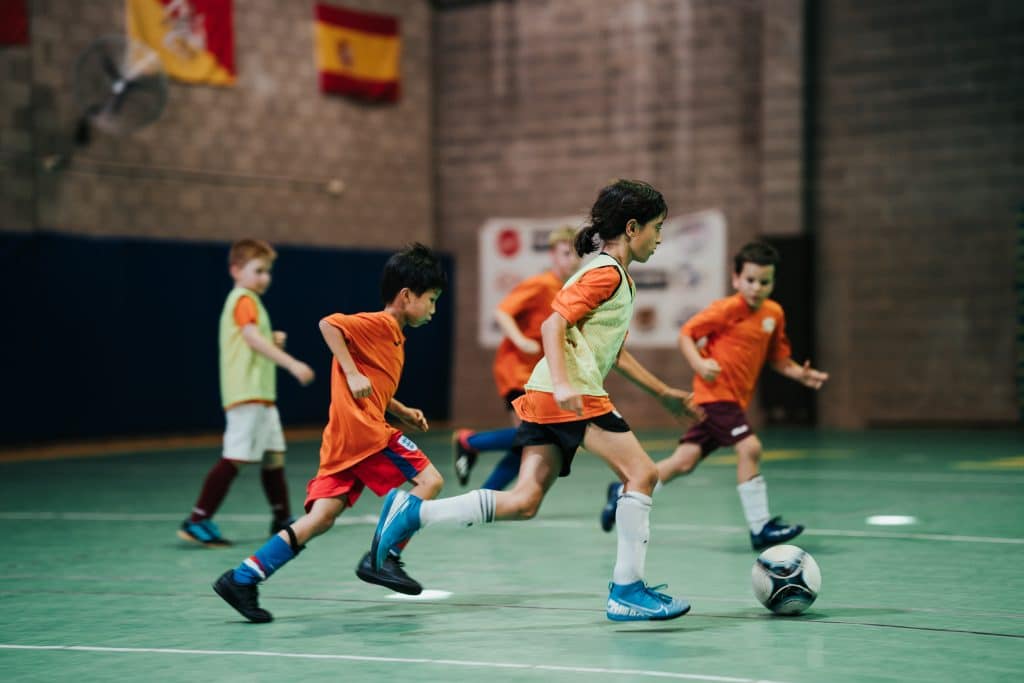 SCHOOL PROGRAM INFORMATION