Join us for our Junior Competitions 2023!
Brisbane Central Futsal Junior's Competitions are run every year from October to December, at Southbank TAFE.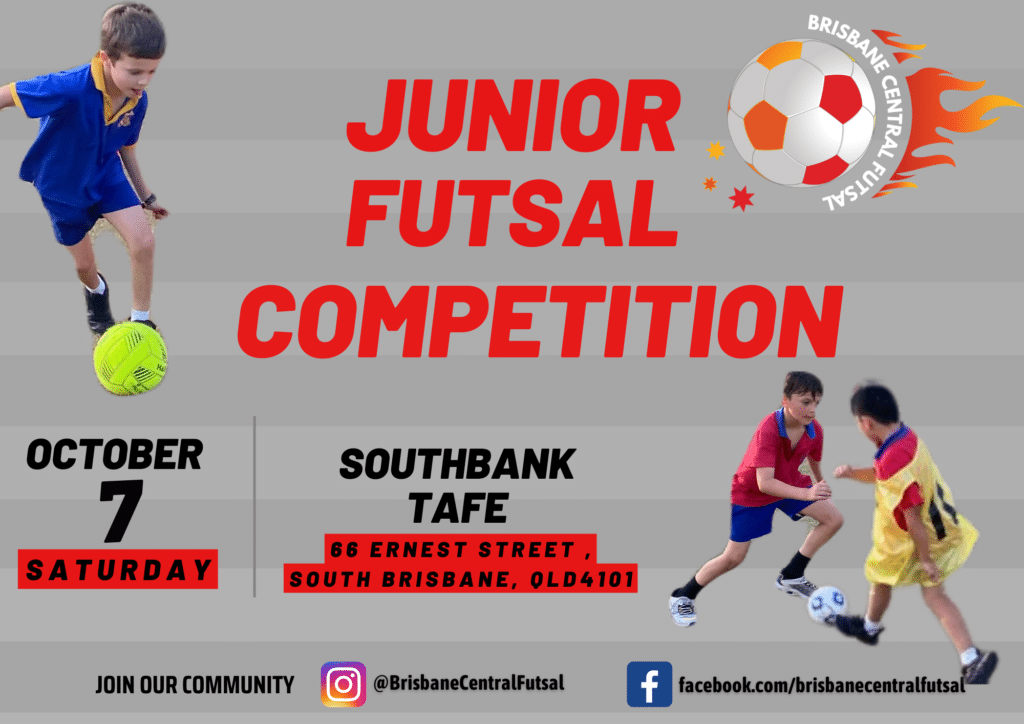 Registration as a player or team by clicking here. Games for this season will be held on Saturday at Southbank TAFE.
This great competition is designed for both genders; girls will be given the option of playing one age group below.
Please note that leagues will be based on skill level.
The Competition Structure
The Brisbane Central Futsal Junior League season has a format of 14 rounds, (including finals), where each team will play each other team twice in the one season. The top four teams will play off in the semi-finals with the winners of each advancing to the Grand Final. The winners of the Grand Final will be crowned Champions for the year. We have also allocated some weekends without games to give the teams a chance to have training sessions as well.
Champions and Runners-Up will be awarded medals at the completion of the Grand Final for each age group.
There will be awards for MVP, Golden Boot and Golden Glove for each age group.
The majority of games will be played at our Southbank Tafe Court headquarters, depending on the age group. Dependent on the number of participating teams, other venues within Brisbane may be sourced.
By joining the competition, teams and players will have the opportunity to be involved in a fun and family-friendly community with a high overall level of Football/Futsal players. Actively participate in intense Futsal games (Futsal offers 600% more touches on the ball than 11-a-side Football) and develop your skills and competitive spirit.
For an extra bonus our Camp Hill facility has live scoring, and all goals scored are recorded to video, meaning kids can go home and watch replays of all goals from their games.
COMPLETE YOUR REGISTRATION
FOR BCF Junior Futsal competition 2023
Sign in as a player o team by clicking

here

.

Registration is $200 per player which includes match fees, registration and insurance must be paid in full by the 16th Sept 2023. Payments must be done in full/per each team of clubs in person at one BCF branches or via direct transfer.**

Account Information: Commonwealth Bank – Account Name: Maria Contoudios Centre; BSB: 064 130; Number: 107 898 48.
RULES AND GENERAL CONDITIONS
Participants are not permitted to set up or adjust any part of the playing facility, including but not limited to goals, nets. If the playing area is not set up satisfactorily, please seek assistance from the organisers.
All team members must wear shirts, shorts & socks of the same type and colour. Bibs may be provided if needed by the organisers if team's colours clash.
Teams must have five (5) players, one (1) being the goalkeeper. This competition is an open competition, females are encouraged to participate however there are no rules requiring teams to have female team members.
Teams can nominate a maximum of 7 players per age group and minimum of 5 players. New players must be registered at least one hour before the game via email to [email protected]
Teams can only borrow up to 2 players from a younger age group from the same club. Players must have played at least 3 round games to be eligible for semi and grand finals.
Teams not able to field three (3) of their own players will forfeit match points. A friendly game may still be played but the outcome will have no bearing on the competition. If a team forfeits without advising the organisation of the competition with 24h notice, it will result in a forfeit (without notice).
All games will be 2 x 17 min (nonstop) halves with a 1 min half time.
The point scoring system is as follows:
Win 3 points | Draw 2 point | Loss 0 points | Forfeit 0 points plus 3 goals against
Brisbane Central Futsal Centre will supply match balls for all games and organize referees for each game.
The home team on match sheet team will kick off. A goal can be scored directly from the kick off.
A team can interchange (subbing zone) players any time during matches. There is no limit to the amount of times a player may leave or re-enter the court of play.
The attacking team has 4 seconds to return the ball to the field of play, 

Option for the ball to be thrown in or kicked in.

Corners are permitted.
There is no offside; a player may stand anywhere on the court.
Opposing players must be at least three (3) meters from the ball at all free kicks, including penalty kicks, sidekicks, corner kicks. Please follow referee's instructions
After the 5th foul, teams will be awarded 10 meters' penalty shot.
To restart the game from the GK (ball goes out over goal line) can throw any length of court.
Junior leagues, teams must retrieve behind the 10-meter (3/4 quarters) penalty for GK throws to restart the game.
Suspended players – A player who receives a red card will be required to stand down the remainder of that Game. A mandatory suspension shall be served in the players next official match.
Maximum 3 officials per team allowed on bench. Parents & siblings are not permitted in the courts technical area. Please follow BCF signs as well as staff/referees instructions.
All changes will be communicated in advance to team organisers
Semi-finals will be:
1st vs 4th – Semi-final
2nd vs 3rd – Semi-final
Winners of each semi-final qualify to the grand finale.
During finals if it is a draw at the end of regulation time, each team will take 3 x 6 meter penalty shots, if teams can't be separated after 3 x penalty kicks, alternative 1 each per team, until there is a winner.
During penalty kicks all players must take one, until teams are allowed to repeat takers.
For more information or any enquiries please contact [email protected]
*Live streaming of some games, including coach and player interviews may take place during the competition. Images of players, coaches and games will be taken during the competition. These may be posted on the Brisbane Central Futsal Facebook, Instagram and YouTube pages. By participating in BCF competitions - clubs, coaches, managers and players give BCF permission to use material for marketing and promotional purposes.
**Teams with outstanding fees will forfeit match points until the fees are paid.

BCF will use the following process when determining the ranking of teams within each age group of the competition:
Greater number of points obtained in all matches.
If two or more teams are equal on the bases of the above criteria, their place will be determined as follows: Greater goal difference resulting from all round games. Greater goals scored from all round games. Least goals conceded. Direct confront between teams in round games. Coin toss