A great weekend of Futsal action
on the Gold Coast
The 11th edition of the Pan Pacific Masters Games took place from 2-11 November on the Gold Coast. Brisbane Central Futsal were proud to send down a total of four teams to compete in the Futsal tournament that took place on the opening weekend. We are happy to report that all of our teams did fantastically well, returning home with two runners-up awards and two third places – a great achievement!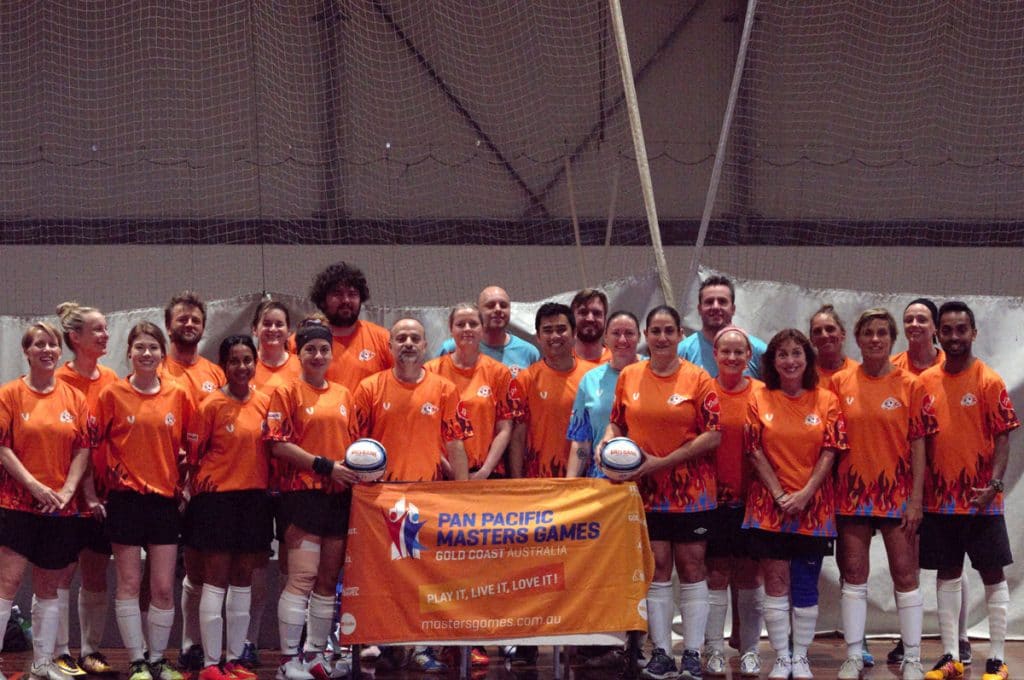 Brisbane Central Futsal entered two teams into the Mixed 30/35+ division, BCF Flames and BCF Fire. BCF Flames comprised of Sakitha Bandaranaike, Lindsey Joseph, Lise Pedersen, Michael Contoudious, Jake Knight, Matthew Stephenson, Adam Hutchinson and Shelley Kulperger. They proved a formidable outfit, ending with a record of 5 wins and only 1 loss from their group fixtures, with a +14 goal difference. Our other team in the division, BCF Fire, comprised of Emily Albury, Simon Geer, Anand Radhakrishnan, Nicole Brown, Ryan Hassett, Bettina Schilg, Enrico Fraederich, Nikki Peever and our resident player/coach Aiz Syafiq. They too put in a strong performance in the group stage, ending with 4 wins and 2 losses from their group fixtures, scoring 23 and conceding only 8 goals in the process.
Unfortunately for these two teams, their group stage placings meant that they would meet each other in the semi-finals, ending the possibility of an all-BCF Grand Final. It was BCF Flames who prevailed in the semi, beating BCF Fire 4-0. The Fire made sure they didn't go home empty-handed however, beating Canberra Bears in the third place playoff. In the big Grand Final, unfortunately our BCF Flames eventually ran out of gas and went down 5-1 to Kiss My Pass.
In the Womens 30/35+ division, Brisbane Central Futsal was represented by two teams, BCF Inferno and the wonderfully-named BCF Flamin Flappers 35's. The BCF Inferno squad comprised of Emily Albury, Jemima Harbort, Peta Kimball, Nicole Brown, Lindsey Joseph, Nikki Peever, Danielle Graham and Bettina Schilg. They finished the group stage with an outstanding record of 8 wins, 1 draw and 1 loss. Unfortunately they went down in their semi-final, but managed to come away with 3rd place in their playoff match – another outstanding result!
The Flamin Flappers 35's, comprised of Deanna Banks, Jodie Ffewkes, Natalie Wynn, Kerri-Anne Beer, Kerstin Wellauer, Carmel De Blasio and Sarah White, had a mixed bag of results – claiming 2 wins and 6 losses from their 8 fixtures. They still managed to progress to the Grand Final of the 35+ division, where they went down 3-7 to The Old Heave Ho 35's.
The Futsal competition at the Pan Pacs reminded us all of just what a great game Futsal can be. As we get older and we lose the sharpness and agility of our younger years, the importance of teamwork becomes more apparent. As they say – the ball never gets tired! The technical ball skills we have developed over the years of playing Futsal or Football remain with us well into our 40s and 50s. That's one reason why Futsal is a great pathway for those that feel they can no longer keep up playing full-sized outdoor football.
Again, well done to all our teams that represented us with distinction both on and off the court at this year's Pan Pacific Masters. We played hard but fair in the true spirit of the Pan Pacs. See you in Japan in 2021!