Brisbane Central Futsal Latest News – September 2023
School Holiday Camp 2023 – Starts in September 18th – 3 different venues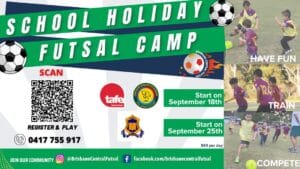 If you don't know what to do with the kids during the school holidays, Brisbane Central Futsal will have the School Holiday Camp
We have 3different places where you can inscribe your kids, you can decide the best choice:
 Southbank TAFE – 18th, 19th and 20th of September

Capalaba – Coolnwynpin State School – 18th to the 22nd of September

Sherwood State School – 25th to the 29th of September
Cost per day: $65
Hour: 9am to 3pm
Scan the QR and register or Register below 
School Holiday Camp Registration!
Affordable training sessions!
Now available for juniors to launch their campaign with Fire FC Futsal Academy. If you know of anyone who may benefit from this, let them know! Training sessions available!We're looking for more 13 & 14 year old young stars out there to TRAIN, PLAY & COMPETE!
Weekly sessions at West End!
A great opportunity for boys and girls of various skill levels to learn, build skills, make friends and have endless FUN playing futsal!
Click here to register now!
Fire F.C. present the "After School Program" in different venues:
Virginia State School
every Monday
Coolnwynpin State School
every Tuesday
Sherwood State School
every Wednesday
Gumdale State School
every Thursday
Our next term will start in October and we will have a new school
Redbank Plains State High School
every Friday