Our annual Battle of the Champions tournament took place earlier this month at the wonderful Hibiscus Sports Complex in Mt. Gravatt. After weeks of anticipation and banter on social media, it was finally time to let the feet do the talking and see which team would be crowned 2018 Champions.
A total of eight teams put their hats in the ring, splitting into two groups of four for the group stage. Group A consisted of Bulimba FC, Brisbane Central Futsal, Singapore Lions and Tiki Taka. Group B contained Aletti Kenmore FC, last year's winners Muzzled, Sons and Spencer College.
After their three group games, Bulimba FC topped Group A with two wins and a draw, recording an impressive +15 goal difference. Finishing in second place was Tiki Taka, who also finished with two wins and a draw. Rounding out the group was our very own Brisbane Central Futsal team, who won one and lost two, and Singapore Lions who unfortunately lost all three of their group games. All four teams moved through to the Quarter-Finals stage of the competition.
In Group B, the highly-fancied Aletti Kenmore FC came out of the blocks quickly, topping the group with two wins and a loss. Sons finished in second position with a win, a draw and a loss. Finishing in third place was the South American outfit Spencer College, who also recorded a win, a draw and a loss. The surprise takeaway from the group stage was undoubtedly the somewhat poor performance of the reigning champions Muzzled, who lost to both Sons and Aletti Kenmore FC, and consigned them to last place in the group and a tough Quarter Final match against Bulimba FC.
Shaken by their poor performance in the group stage, Muzzled regrouped to beat Bulimba FC 3-1 in the first Quarter Final, with Keegan Jelacic scoring a brace. Meanwhile Aletti Kenmore FC defeated Singapore Lions 7-1, with Alex Retemal scoring a hat-trick. The third Quarter Final was an all-South American affair as Tiki Taka took on Spencer College. As expected it was an extremely tight game that finished 3-2 to Tiki Taka, decided courtesy of Juan Guillermo Jaimes' last-minute winner. In the last of the Quarter Finals, Sons ended Brisbane Central Futsal's tournament, beating them 6-3 with Sasa Radulovicscoring a brace for Sons.
The Semi Finals pitted Muzzled against Sons, and Aletti Kenmore FC against Tiki Taka. Appearing to hit form just at the right time, Muzzled put on a clinical display against Sons, beating them 5-2 in arguably their best performance of the tournament. The other Semi Final was a much tighter game, with Tiki Taka scraping home 4-3 against Aletti Kenmore FC.  Juan Guillermo Jaimes again proved the difference between the two sides, scoring a well-taken hat-trick.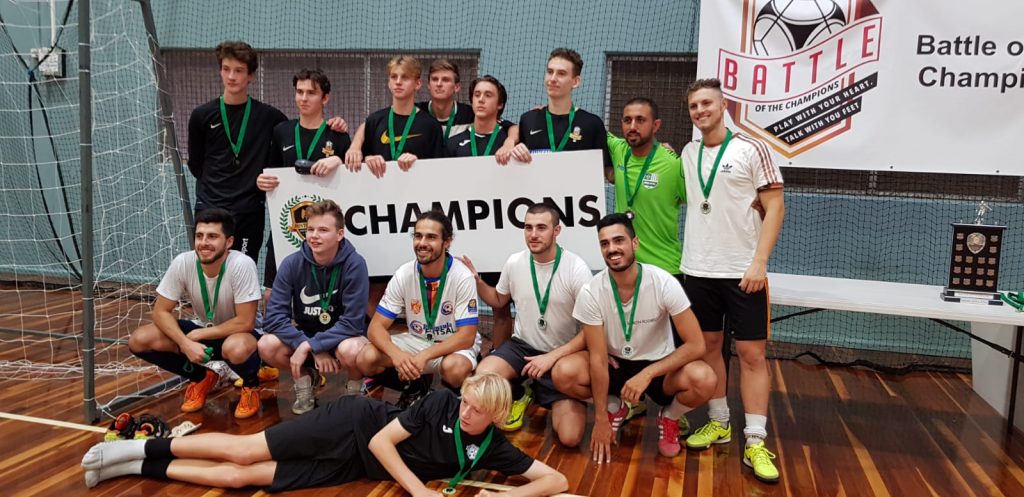 It came down to Muzzled and Tiki Taka in the Final, with both sides high on confidence after their strong knockout stage performances. In a dramatic end to the day, Muzzled prevailed on penalties after both sides couldn't be separated after regular time, making them Champions for the second year running. The Golden Boot award went to their star player Keegan Jelacic, topping off a perfect day for the young guns. It's safe to say that they will be back next year to defend their crown for the third year in a row.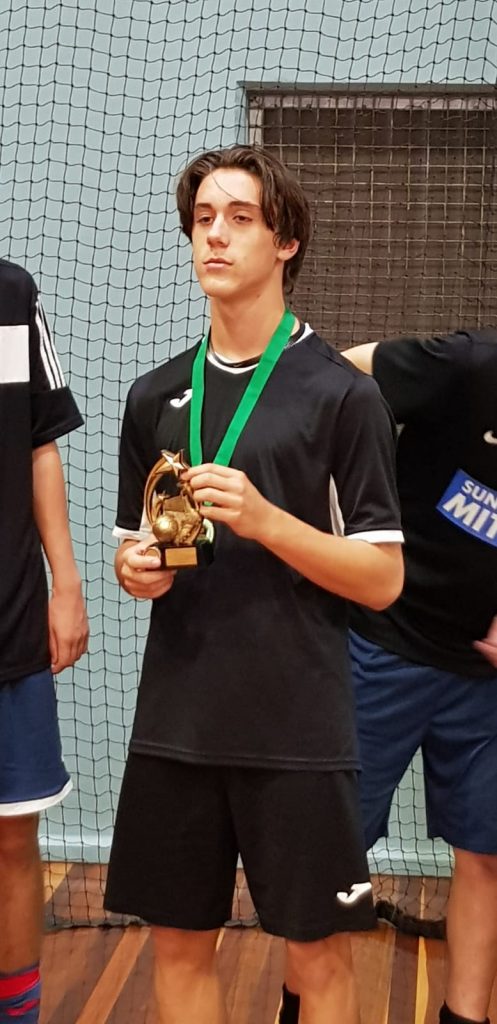 From everyone at Brisbane Central Futsal, we'd like to thank all players for their involvement in this year's Battle of the Champions tournament. Overall the matches were played in great spirit and we were witness to some outstanding Futsal. We now look forward to next year's tournament which promises to be better than ever.
Happy New Year to all, and see you in 2019 for another year of football.
---
Check out the competition highlights video: